Stapleton & McCool to Debut Schaeffer's Wrap at the Dream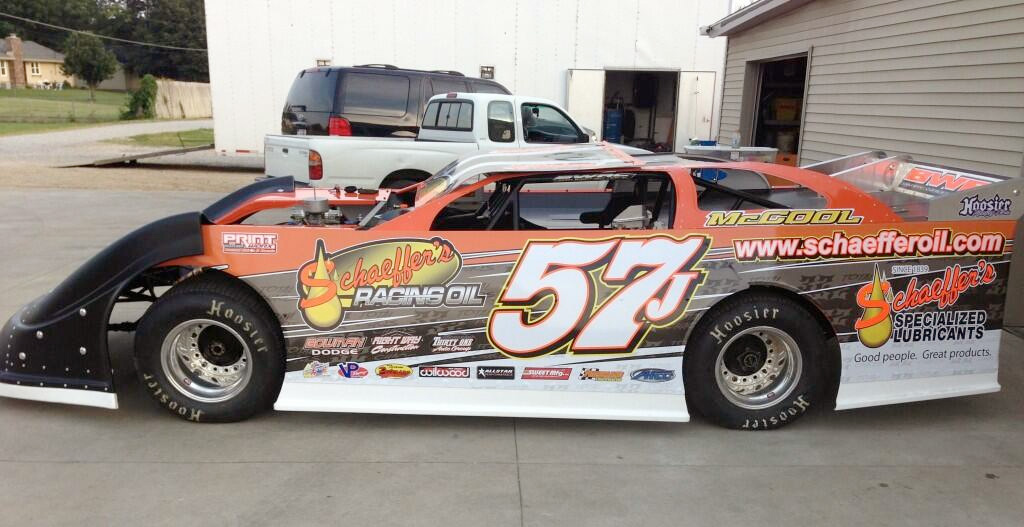 Chad Stapleton and Bub McCool to Debut Schaeffer's Oil Wrap at the Dream
Edinburgh, Indiana (06/05/13) – Chad Stapleton and good friend, Bub McCool, are once again teaming up for the 19th Annual Dirt Late Model Dream this weekend at Eldora Speedway (Rossburg, Ohio), and the team's entry will carry a special Schaeffer Oil graphic's scheme.
After qualifying for the World 100 last year in a Chad Stapleton prepared Rightway Construction/Barry Wright/Jay Dickens Racing Engine Super Late Model Bub McCool will again pilot an entry for the team in this weekend's 19th Annual Dirt Late Model Dream.
Not only good friends, Stapleton and McCool, will come together to chase the weekend's big payday, but both will also pay homage to one of their big sponsors.
"Schaeffer's Oil has been a great sponsor for Bub and I on our respective cars over the past few years, so we are real excited to give back to them by having a Schaeffer's themed car at this weekend's event," notes Stapleton. "I have to thank Alan Bradley, and the whole gang over at Schaeffer's for their awesome support, and I encourage everyone to check out their great products!"
The car will carry McCool's customary #57J on the door with giant Schaeffer's logos positioned on the entry.
The 19th Annual Dirt Late Model Dream features an increased payout and revised format for this year's edition of the mega-event. On Thursday evening the field will be divided in half with time trials, heat races, b-mains, and dual $2,500-to-win features, while Friday's program will include the same format but with dual $5,000-to-win features. On Saturday evening business will return to normal with heat races lined up via a driver's best qualifying performance on either Thursday or Friday evening. The night will end with the coveted $100,000-to-win finale, which will see competitors waging war for 100 laps around the famed, ½ mile oval. For more information on the event, please visit www.EldoraSpeedway.com
Chad Stapleton would like to thank all of his sponsors and supporters including Rightway Construction, Skeletor Core, K&L Machining, Thirty-one Auto Group, Bowman Dodge, Cox Tree Service, Dirt Racing Connection, Schaeffer's Specialized Lubricants, Hoosier Race Tire, Jones Core, Roger's Bar, Barry Wright Race Cars, Tri County Auto Parts, Jay Dickens Racing Engines DK Designs, Rhino Linings, GW Performance, All Star Performance, Tranter Racing, AFCO, Frankland, Sweet Mfg, Outlaw, Wilwood, Team Peterson, VP Racing Fuels, and MSR Mafia Marketing Services.
For the latest information on Chad Stapleton, please visit www.ChadStapleton.com.