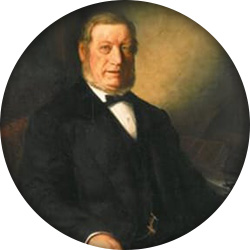 1839
In 1839, Nicholas Schaeffer establishes Schaeffer Manufacturing Co. in St. Louis, MO, where the company is still located today. Originally producing soaps and candles, the company begins manufacturing oils and greases to support westward expansion during the California Gold Rush. Schaeffer's lubricants are sold under the trade names Red Engine Oil and Black Beauty Grease.
1850s
Schaeffer Manufacturing Co. produces its lubricants from the by-products of animal fats, which are used to make the company's soap and candles. After 1859, the company uses petroleum as the base stock of its lubricants. By 1862, sales reach over $1M annually, and the company markets and sells goods across the country.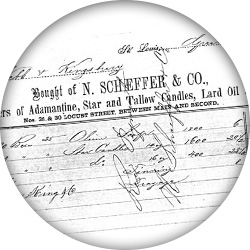 1880s
In 1880, Jacob Schaeffer becomes president of the company following the death of his father, Nicholas Schaeffer. Forty years after the company was founded, Schaeffer Manufacturing Co. is the largest soap and candle manufacturer west of the Mississippi. Boss is the company brand name for its laundry bar soaps and Star for its candles.
1920s
When Jacob Schaeffer's son-in-law, William Shields, becomes president of the company in 1917, oil and grease represent 20 percent of sales. Under William's leadership, the company preserves its lubricant market by making private label oil for other companies.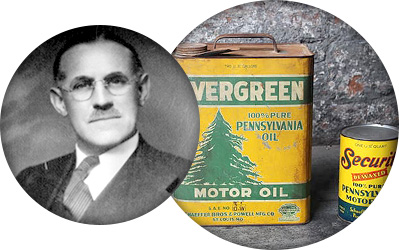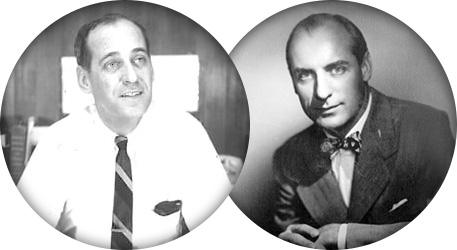 1940s
William Shields remains president of Schaeffer Manufacturing Co. until 1947 when his sons, Gwynne and Tom Shields, assume leadership of the company. Described as breathing new life into the business, the two shape the company into what it is today. Toward the end of the decade, the company focuses solely on developing and selling its own brand of lubricants. It's during this transition period that Mike Ryterski joins the company; he later develops several of Schaeffer's proprietary formulas.
1950s
In 1951, Marty Schwab joins the company and is quickly promoted to sales manager. Marty, along with Tom Shields, switch the company's marketing concept to selling directly to the consumer. During the 1950s, Schaeffer Manufacturing Co. introduces its first line of fuel additives.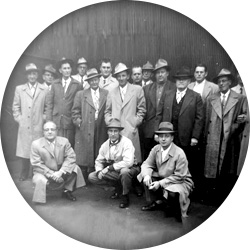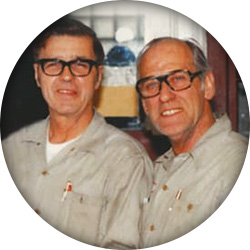 1960s
Mike Ryterski and Gwynne Shields pioneer a highly specialized line of lubricants that feature liquid soluble molybdenum disulfide ("moly"). The superior quality of these products, together with the sales force developed by Tom Shields and Marty Schwab, result in tremendous growth for the company.
1980s
Following the death of Gwynne Shields in 1980 and Tom Shields in 1982, siblings Jacqueline Herrmann and John Shields, become successive fourth generation owners of Schaeffer Manufacturing Co. Jacqueline's sons join the management team; Tom Herrmann becomes president, and Bill Herrmann runs the plant. Committed to keeping the business family owned, Jacqueline and John create an irrevocable trust to prevent the company from being sold. In 1986, Lubes 'n Greases Magazine recognizes Schaeffer Manufacturing Co. as one of the leaders in the use of molybdenum disulfide as a friction modifier.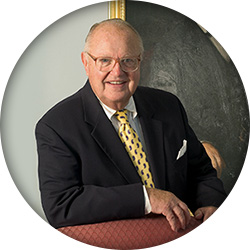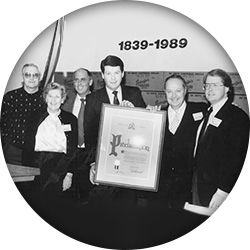 1990s
Sales reach $24M annually, and Schaeffer Manufacturing Co. begins selling products internationally. The company donates grease to the Department of Defense to address sand issues encountered in Operation Desert Storm, for which the company receives a Certificate of Appreciation from President George H.W. Bush. In 1999, Schaeffer Manufacturing Co. earns ISO Quality Certification.
2000s
The company experiences another surge in growth, with sales nearly doubling from $53M to $100M annually in less than 10 years. Having worked for the company since 1976, Jay Shields, son of Chairman John Shields, is named president in 2006. Schaeffer Manufacturing Co. continues to enhance its product line, and in 2008, the company introduces a revolutionary varnish-preventing HTC Oil additive, VarniShield®.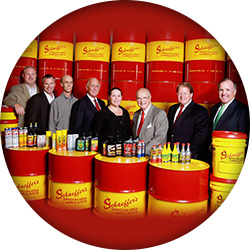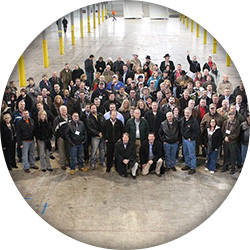 2010s
Schaeffer Manufacturing Co. launches its Certified Lubricant Specialist program. In 2010, the company purchases a 60,000 square foot manufacturing plant, bringing the company's total workspace to almost 200,000 square feet. Long-time customer Security Transport Services has a Ford E150 gasoline engine reach a million miles without needing major engine work; the vehicle was serviced exclusively with Schaeffer's lubricants. In 2014, Schaeffer Manufacturing Co. celebrates its 175th anniversary and honors company founder Nicholas Schaeffer's 200th birthday.