Schaeffer adds inboard and outboard engine products to its product line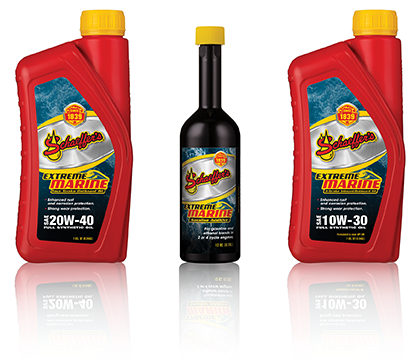 Schaeffer adds inboard and outboard engine products to its product line
ST. LOUIS, MO. (Jan. 25, 2023): Schaeffer's Specialized Lubricants today announced its new Extreme Marine engine oils and gasoline additive. The products, designed to increase engine cleanliness and efficiency and protect against rust, corrosion and wear, are now available through its factory-direct reps and soon through Schaeffer-partnered retailers.
"We're proud to provide inboard and outboard engines with the same performance and durability customers expect from Schaeffer," said Jim Carroll, Executive Vice President of Operations and Technical Department for Schaeffer. "Whether it's for work or enjoyment, boat owners should get more service life from their engines for as long as they want to own their boat."
Inboard and outboard engines are subjected to harsher, more corrosive environments than on and off-road engines. They operate at higher RPMs for longer periods and experience increased idle time.
"Four-stroke marine engines have different lubrication needs that what an automotive engine oil can meet. We believe in using the right oil for the specific application the engine is used in," said Carroll. "Our Extreme Marine 4-Stroke Inboard Outboard Full Synthetic Oils have the higher viscosity, higher shear stability and increased antioxidants needed for all-around increased inboard and outboard engine protection."
Extreme Marine 4-Stroke Inboard Outboard Full Synthetic Oils also feature outstanding detergency and dispersancy additives to help remove, control and prevent deposits. This robust deposit control prevents exhaust port blocking and fouling of the spark plugs and helps maintain 'like new' power throughout the engine's life. It surpasses industry performance standards in the Salt Fog Test (ASTM B1117) and FC-W Rust Outboard Durability.
Extreme Marine Gasoline Additive provides additional rust and corrosion protection in the fuel system. It also decreases fuel system wear with increased lubricity as shown by a modified HFRR test in both E10-ethanol blend and recreational fuel. This highly advanced marine gasoline additive cleans and reduces deposits to increase horsepower and performance. One 12-ounce bottle treats 50 gallons of fuel.
About Schaeffer's Specialized Lubricants
Founded in 1839, Schaeffer's Specialized Lubricants is a sixth-generation, family-owned company that delivers the right solution to equipment's lubrication challenges. Schaeffer's products provide strong engine durability and fuel economy benefits, allowing customers to maximize their equipment's efficiency and offset profit margins.